Books > Christ Conscious Leadership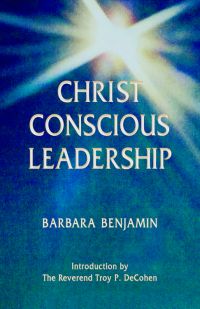 Book Details
| | |
| --- | --- |
| ISBN | 978-0-9839412-6-2 |
| Author | Barbara Benjamin |
| Publish Date | 2012-09-30 |
| Type | Nonfiction |
| Price | 9.95 |
Book Description
Exploring the progress of human consciousness and leadership from the dawn of history to today, Christ Conscious Leadership invites people of every faith to become vigorously engaged, at this critical point in their spiritual evolution, in developing the consciousness of the anointed one, the Eternal Absolute. Anchored in the traditional wisdom of the world's major cultures as well as in current perspectives from a wide range of disciplines, from psychology to quantum physics, the book guides the reader through five steps in the process of becoming a Christ conscious leader and provides exercises for introspection, self-assessment, and personal growth.

Fr. Richard Rohr, O.F.M., Director of the Center for Action and Contemplation, praises Christ Conscious Leadership: "Old things are returning as very new things, and what feels like traditional teaching is now becoming conscious, revolutionary, and exciting. Barbara Benjamin brings so much together here in a time when we need so much."

Eminent psychiatrist Dr. Clancy McKenzie writes: "Barbara Benjamin is a truly enlightened person.... Her new book, Christ Conscious Leadership, is a major contribution to mankind".Benjamin's work empowers people of every faith to evolve consciously and to transform a global society that is headed for self-destruction."