Books > The Plentiful Harvest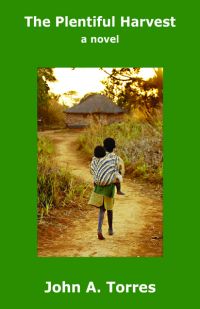 Book Details
| | |
| --- | --- |
| ISBN | 978-0-9839412-0-0 |
| Author | John A. Torres |
| Publish Date | 2012-04-01 |
| Type | Novel |
| Price | 9.95 |
Book Description
Jack Hopkins is unemployed but enjoying life in his Bronx neighborhood when by a freak accident he gets a job managing an airport in southern Sudan. With his generous, outgoing personality he makes friends and motivates his workers. Then he meets Jenelle, a dedicated teacher at the Catholic elementary school, and he falls in love with her. But their happy time together is cut short when an army from the north invades the area, ruthlessly killing men, women, and children, and Jack is thrust into the role of saving what remains of the world that Jenelle revealed to him.

"Heart-wrenching and fast-paced, John Torres' first novel delivers unexpected plot twists wrapped around unforgettable characters. Jack Hopkins is both relatable and inspiring, a protagonist that stays with you long after the book is closed." Roxanne St. Claire, New York Times Bestselling Author

John A. Torres is a journalist and author of more than fifty books, including his recently published memoir On Higher Ground. Now a reporter for FLORIDA TODAY newspaper in Melbourne, he has covered major disaster areas as well as social justice issues. In his spare time Torres likes to fish, read, swim, and spend time with his wife and five children..